Dry Pump Servicing
Specialists in the supply of Reconditioned Vacuum Equipment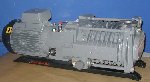 Island Scientific Ltd offer servicing and repair on DryStar iQDP and GV Series Vacuum Pumps and also Ebara Dry Vacuum Pumps. We have available, full decontamination facilities and all work is carried out to ISO9001 Quality Standards.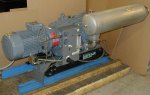 Full servicing of Roots Boosters is also available, (prices on request).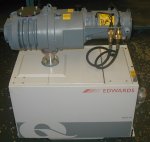 Collection & delivery can be arranged if required, (prices on request).
Contract servicing rates available on request.

Standard Service:

Strip pump apart, decontaminate and clean all components. All contaminants disposed of according to local environment health requirements

Replace:

PTFE Coating on claws and sleeves
Bearings
Seals
'O' Rings
Coolant
PFPE fluid in gearbox

Check and Report if attention needed:

Rotor and Stator clearances
Electric Motor
Gears
Motor/Pump Coupling

Overhaul and Replace if necessary:

Thermal Snap switch
Water Thermal control Valve
Exhaust Manifold
Nitrogen Lines

Final Assembly:

Leak Test using Helium
Mass Spectrometer and make leak free
Run and test for 48 hours
Issue final test report

A Copy of test results included with each service.

 

 
Price List - Pump Servicing
Island Scientific can fully strip and overhaul most makes and types of Vacuum Pump.  This includes decontamination of Pumps from both the semiconductor and chemical industry applications.

Our Pump service price guide is based on the following work being undertaken.

Full Service
Fully stripped, cleaned and inspected for wear.
If major repairs are needed a quotation will be sent for approval before the service is completed.
The pump motor stripped, cleaned and fitted with new bearings.
Pump and motor re-assembled with new 'O' rings, seals,bushes and bearings. 
Pump run and fully tested before re-packing and despatch back to customer.

If the pump has been used on a semiconductor or chemical application the cost of decontamination starts from £75.00/pump depending on the model.

If down time is your major concern we may be able to offer a service exchange unit from our extensive range of reconditioned units.

Above prices exclude delivery, collection and VAT.
Prices do not include decontamination please add for decontamination £90 (approx. dependant on Pump model).
Pump only decontamination with no re-build from £150.00.
We will fax you for any extra work that may be required such as new rotors and stators. If we find the pump is beyond repair we may be able to supply a service exchange unit from our existing stocks of reconditioned equipment.
A Selection of Reconditioned Dry Pumps and Boosters are usually available from stock.